Master of Arts in Marriage & Family Therapy
Louisville Seminary's MAMFT program trains individuals with theological and spiritual commitments to become marriage and family therapists competent to practice in a diverse, multicultural and interfaith world. Those trained in the MAMFT program gain theoretical and practical tools to work as comprehensive mental health professionals in a broad range of treatment contexts with careful attention to relational systems and human diversity. Most graduates become licensed marriage and family therapists working in private practice, agencies or churches. Others choose a dual-degree option (MAMFT/MDiv) that leads to ordination as a minister who is trained—and most often licensed—as a marriage and family therapist.

The MAMFT degree requires 70 semester hours of course work and 500 hours of supervised clinical practice. This academic and clinical focus is designed to help students form a professional identity grounded in marriage and family therapy and informed by theological, religious and spiritual studies. Clinical experience is obtained by serving at the program's primary site, Louisville Seminary Counseling Center, and secondary off-campus practicum sites. Graduates meet requirements for a marriage and family therapy license in most states and certification as a pastoral counselor by the American Association of Pastoral Counselors.

ACCREDITATION
The program is accredited by the Commission on Accreditation for Marriage and Family Therapy Education of the American Association for Marriage and Family Therapy.

Program Statistics: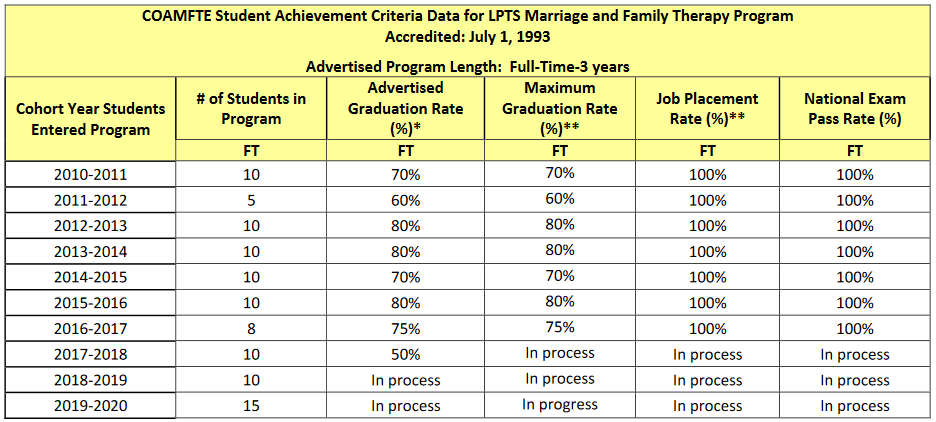 * Graduation rates for program's Advertised Length of Completion.
**This is defined as the percentage of graduates from the cohort year listed that are employed within 3 years of their graduation utilizing skills learned in the COAMFTE accredited program.
MAMFT Program Requirements
ADMISSION
A bachelor's degree from an accredited institution is required for admission. Personal experience, maturity, sense of ministry, and aptitude, as demonstrated during an interview process, also are considered for admission. Advanced standing may be given for previous graduate degrees in selected fields. Consistent with the program's mission to train marriage and family therapists who are competent to practice in a multicultural and interfaith world, students entering the MAMFT Program embody a range of differences in religious and educational background, ethnic and racial identity, gender, and sexual orientation.

GRADUATION
To qualify for graduation, students must meet the following requirements:
• Satisfactory completion of all academic courses required by the Master of Arts in Marriage and Family Therapy.
• Successful demonstration of clinical competencies and completion of clinical experience including a minimum of 500 supervised hours of direct client contact and 100 hours of clinical supervision.
• Successful preparation and presentation of a "Senior Integration Experience," a Practicum 3 capstone project.
• Completion of the MFT Exit Examination with a passing score.
• Satisfactory completion of all Student Learning Outcomes and MFT Core Competencies as listed by the Program and incorporated into class syllabi.
MAMFT Program Outcomes and Student Learning Outcomes
Program Goals

To graduate students prepared with clinical and theoretical tools to provide individual, couple and family therapy as entry-level professional MFT practitioners.
To graduate students who demonstrate cultural competence and are able to provide individual, couple and family therapy with diverse clients.
To graduate students with an entry-level professional ability to reflect theologically/spiritually on their clinical practice in a multi-faith world.
To graduate students with commitments to service, advocacy and public participation as an MFT.

STUDENT LEARNING OUTCOMES (SLO)

Graduating students will be able to conduct evidence-based therapy with individuals, couples and families that meets entry-level professional standards.
Graduating students will demonstrate a broad knowledge of systemic theory and MFT treatment models and flexibly apply these in evidence-based practice.
Graduating students will be able to apply an ethical framework, including but not limited to the AAMFT Code of Ethics, to make appropriate decisions in therapy, advocacy, service and public participation.
Graduating students will be able to use a multi-contextual approach to Marriage and Family Therapy that attends appropriately to religious, cultural, racial, economic, gender, and sexual orientation diversity in client, client-therapist, supervisory, and broader social systems.
Graduating students will be able to use a clinically appropriate theological/spiritual framework in the practice of Marriage and Family Therapy.